Gourmet restaurant with large terrace and outdoor bar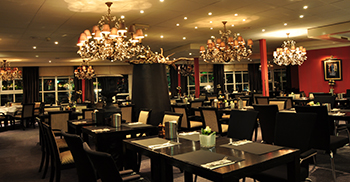 Restaurant Kanunnik is the place to come for breakfast, lunch, high tea, dinner or drinks. Both the kitchen team and the serving staff are not just professional, but also display an air of the best possible hospitality. They like to put together a wine package that matches your menu choice perfectly. For our little guests, we serve a wide range of children's menus. Restaurant Kanunnik is open daily and features a large terrace with outdoor bar 'Il Palazzo'. After dinner, you are welcome to have a drink in our cosy indoor bar 'de Trappist'.
Your restaurant visit is perfect for combining with a visit to the Schoorl dunes. These dunes are known as the highest, most beautiful and widest dunes in the Netherlands. The restaurant is the perfect place to start or end a hike or cycle ride through this beautiful nature reserve.
Restaurant Kanunnik owes its name to the canon (kanunnik) and painter Jan van Scorel, born in Schoorl in 1495. Chef de cuisine Sander van Doorn mans the stove and he, together with his team, has compiled a menu of dishes that only use fresh produce. Sander also uses regional and seasonal produce as far as possible, because he believes responsible cooking is important and because he aims to do business in a sustainable manner. Which is not just a noble goal, but is also to sample what he is serving his customers.